Untitled
Yeah, that's right ! THE HOUSE OF WILD DELIGHTS baby !!!
A real gone stupid podcast loaded with red hot sex & retard jerks, screechin' dreams & creakin' screams, flowin' booze & shakin' grooves, acid visions & jungle drums, smelly trash & heavy bash, crazy bongos & demented instros, beautiful girls & freaky monsters, hoodoo incantations & automutilations, unspeakable dumbness & unforgivable clumsiness, silly punks & wavy junks, unbearable tortures & primitive garage,wailin' feedbacks & dancin' hunchbacks, glass breakin' & ass shakin', groovy tittyshakers & hot lips honkers, howlin' monkeys & twistin' zombies, muddy blues & sturdy wolves, bare strippers & bad trippers, prohibited substances & explicit lyrics, spooky noises & rotten corpses, nasty flicks & untamed chicks, peepin' mates & jerkin' apes, cool cool ghouls & burnin' soul, raucous mumbles & vicious rumbles, foreign accents & twisted limbs, boner goners & super vixens, wailin' fuzz & spacey reverbs, greasy meat & sleazy beats,high distortions & top actions, frantic rockabilly, moisty exotica and so much more provided in super-scratchy-mono-fi by your stumblin' host :The screamin' Soul Preacher, ladies and gentlemen !
Here on GaragePunk.com !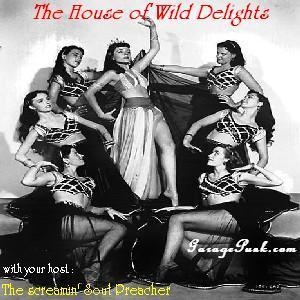 This post was edited by The Screamin' Soul Preacher at May 7, 2014 2:44 PM CDT