THE HOUSE OF WILD DELIGHTS #30 (Monkey Time part 1)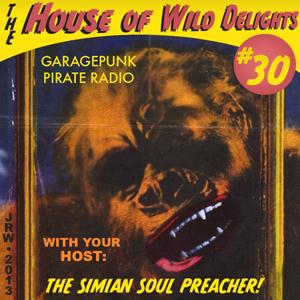 Artwork by J.R. Williams.
Welcome to The Jungle of Wild Delights my friends !
A savage territory where you'll soon get wild and crazy dancing naked with wicked untamed lustful beasts.
Tonight is a great night because it's MONKEY TIME on GaragePunk Pirate Radio !!!
So please, jump in your birthday suits and get ready to go gorilla and celebrate the end of this so-called civilized world shakin' and screamin' to the monkey sounds of this two-part special ape-isode, my devoted little jungle creatures !!!
Here's part one :
The House of Wild Delights #30 by Thescreaminsoulpreacher on Mixcloud
SUBSCRIBE TO THE HOUSE OF WILD DELIGHTS
SUBSCRIBE TO GARAGEPUNK PIRATE RADIO
Special thanks to the great J.R. Williams for the wonderful and powerful gorillartwork !!!
Check more gorgeous art, fabulous mixes, marvellous comps and even more monstrous stuff at http://jrsprintsofdarkness.blogspot.com/ . Then enjoy yourself here sweeties.
Thanks for listening and see you soon for the second part of our monkey trip.
Can't wait that long ? Check Mr A. The Barber's own ape-isode of YOU GOT GOOD TASTE there.