THE HOUSE OF WILD DELIGHTS #31 (Monkey Time part II)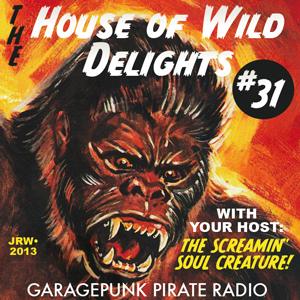 (artwork by J.R. Williams)
Welcome back my hairy friends !!!
It's Monkey Time again in The Jungle of Wild Delights on GaragePunk Pirate Radio with your freaky hostang-ou-tang The Simian Soul Creature !
So get ready to shake what you brought coz it's gonna be all banana beat, coconut groove and mango a go-go before we trip reeaaal high to the monkey mooooooooooon !!
Alright ! Are you ready for this ???
The House of Wild Delights #31 by Thescreaminsoulpreacher on Mixcloud
SUBSCRIBE TO THE HOUSE OF WILD DELIGHTS
SUBSCRIBE TO GARAGEPUNK PIRATE RADIO
Special supa-thanks again to the mighty King "J.R. Williams" Kong for the artwork !
Mo' great gorill-art, chimpy comps and other tuff stuff at :
http://jrsprintsofdarkness.blogspot.com/
and even more art at : http://www.comicartcollective.com/jrwilliams/
Enjoy my little jungle creatures of the night !!!
Extra special supa-thanks again to Mr A. the Barber, Weird-Oh Lord of the Hip-Apes from HIPSVILLE U.K. !!! See you soooooon Baboon ! ;)
And, of course : Extra extra special supa-thanks to the Almighty KOPPER for this GaragePunk Jungle !
Go ape baby go !!!
Thanks for listening...