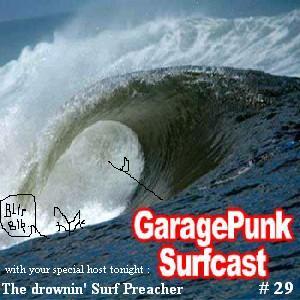 Just escaped from his Prison of Wild Delights, The drownin' Surf Preacher is glad to be the guest host of the GaragePunk Surfcast episode 29.
Being so mentally retarded by centuries spent locked in a dark cave, it was hard for him to face the light of the Sun and work on a whole playlist inspired by the munificence of the Ocean, the haunting chant of the Waves and the Spirit of Freedom...that's why he sent the special signal and called for his special fiends and friends to bring you this special episode. Oh, what a special adventure my devoted minions !!!
Now, beware sweeties and gremmies coz here are 5 crude rude dudes from the Surf Dimension !
Here are the High Five, the Furious Five, the Fantastic Five, the Magnificent Five, the Five Stooges, uh, the Hang Five !!!
Here are Tsunami Amy, Dale the Squale, the Rev' Herb, Tidal Dave and the Bitch Preach from the Peach Beach ready to bring you the tuff surf sounds that'll make your board spinning round and round as if it was sucked down by some ultra cool whirlpool you stoopid fool !!! Now you have it : Five mighty selecters for 500 % more reverb' explosion kiddies !!!
Get ready, wax your boards or whatever and ENJOY !!!
GaragePunk Surfcast #29 by Thescreaminsoulpreacher on Mixcloud
DOWNLOAD / SUBSCRIBE TO THE GARAGEPUNK SURFCAST /
SUBSCRIBE TO GARAGEPUNK PIRATE RADIO /
SUBSCRIBE TO THE HOUSE OF WILD DELIGHTS
Thanks for listening !
Extra thanks to Kopper, the GaragePunk.com technical staff and to all the wonderful bands I've played !!!
Playlist in the comments.