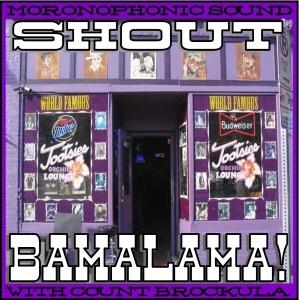 YOU AIN'T CRAZY - EPISODE 8 IS COMING AFTER EPISODE 9. WHY, YOU ASK? WELL, I WAS DIGGING AROUND THE DIGITAL TRASH HEAP AND FOUND WHAT I THOUGHT WAS GONE FOREVER- EPISODE 8! SO I FIGURED, LET'S CONFUSE THE HELL OUTTA EVERYBODY AND DUMP AN OLD EPISODE ON 'EM! YOU AIN'T NEVER HEARD IT SO IT'S NEW TO YOU!
GET YOURSELF TOGETHER BABIES CAUSE IT'S GIT DOWN TIME!!
NOW TUNE IN, LIQUOR UP AND GET REAL, REAL GONE!!
DOWNLOAD | SUBSCRIBE TO THIS SHOW | SUBSCRIBE TO ALL | FACEBOOK | iTUNES
1 STRATOSPHERE BOOGIE - SPEEDY WEST & JIMMY BRYANT
2 MOVE IT ON OVER - HANK WILLIAMS
3 WHY BABY WHY - GEORGE JONES
4 KO KO MO (I LOVE YOU SO) - JACK CARDWELL
5 ROCKIN' AND ROLLIN' - TOMMY SCOTT
6 GOOD NIGHT CINCINNATI, GOOD MORNING TENNESSEE - SHORTY LONG
7 STEALIN' SUGAR - RAY BATTS
8 DON'T SWEEP THAT DIRT ON ME - BUDDY SHAW
9 IT'S SATURDAY NIGHT - BILL MACK
10 (I GOT) A HOLE IN MY POCKET - LITTLE JIMMY DICKENS
11 WORRIED ABOUT YOU BABY - DALE HAWKINS
12 RUMBLE - LINK WRAY
13 PIG BONE - THE ABOOTAYS
14 CHICKEN ROCK - SCOTT WOOD
15 ROCK IT - THE ORBIT ROCKERS
16 MIDNIGHT EXPRESS - THE DAWNBEATS
17 RAMPAGE - THE THUNDERROCKS
18 SHAFTEN - BILL DUZAN
19 SCALPING PARTY - THE TORNADOS
20 ORBIT FANTASY - 101 STRINGS
21 SHE'S LIKE HEROIN - GUN CLUB
22 PAPER BOY BLUES - '68 COMEBACK
23 BLUES WRAPPED AROUND MY HEAD - FLAT DUO JETS
24 BABY YOU CRAZY - NICK CURRAN AND THE LOWLIFES
25 ADIOS, FAREWELL, GOODBYE - NINE POUND HAMMER
26 SEX KITTENS COMPARE SCRATCHES - LAZY COWGIRLS
27 TALK BREAK CLOSING - THEME FROM CYCLE SAVAGES - THE CYCLE MATES
28 ALOHA FROM HELL - THE CRAMPS